Last Friday, a Spanish joint operation undertaken by the National Police, The Guardia Civil and Customs (DAVA), with the coordinated support from MAOC-N, led to the seizure of 560kg of cocaine on board a fishing vessel.
The flagless vessel was intercepted approximately 400 nautical miles south of the Canary Islands with eight Brazilians on board, causing the authorities to believe that the drugs may have transited through this South American country before heading towards Europe.
After the interception and subsequent boarding, the fishing vessel was towed to Las Palmas (Canary Islands), where the detainees, the vessel and the drugs were handed over to the local judicial authorities.
The Spanish authorities responsible for the operation emphasized how complex it was to conduct such an operation, as there was very little information on the exact location of the vessel and the weather conditions at the time of the boarding were very difficult.
This year alone, MAOC-N partner countries have already seized over 14000kg of cocaine through operations supported by the Centre.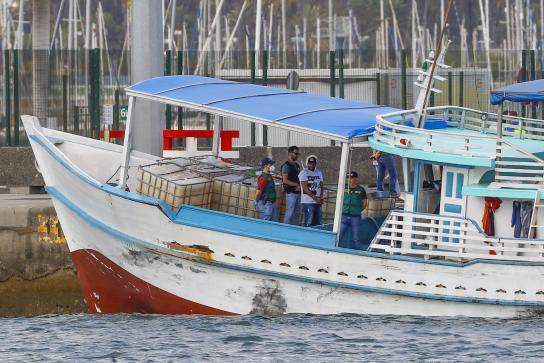 Press: https://www.lavanguardia.com/vida/20220607/8323113/ocho-detenidos-interceptar-pesquero-cocaina-canarias.html