On 06/06/2021, with the support of MAOC-N, the Spanish Guardia Civil and the Senegalese Navy, in a joint operation with the Spanish National Police and the Customs Surveillance Services (DAVA), and in collaboration with the French Customs (DNRED), seized 8,400kg of hashish off the Senegalese coast.
According to the Spanish authorities, the operation was the result of the coordination between the Spanish CITCO (Intelligence Centre against Terrorism and Organized Crime) and MAOC-N, leading to the identification of a Togolese-flagged cargo ship suspected of transporting a large quantity of drugs.
Located in the vicinity of the Senegalese coast, both Senegalese and Spanish maritime and aerial assets proceeded to intercept and inspect the vessel at a position approximately 65 nautical miles west of Dakar, finding a total of 8,400 kg of hashish on board. The crew, composed by one Syrian, one Mauritanian, one Lebanese and four Indian nationals, were arrested.
According to the press release, the increasing in maritime trafficking of hashish through the southwestern coast of the African continent is a result of the search for safer routes by criminal organisations aiming to evade potential inspections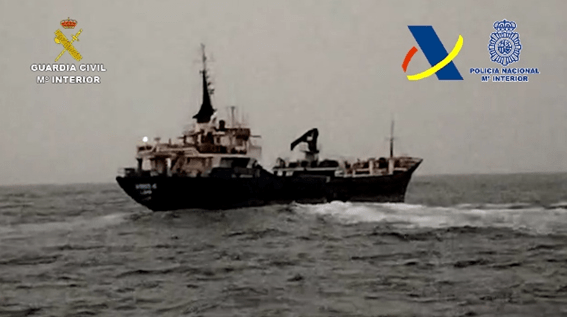 Press Release: https://www.guardiacivil.es/es/prensa/noticias/7872.html